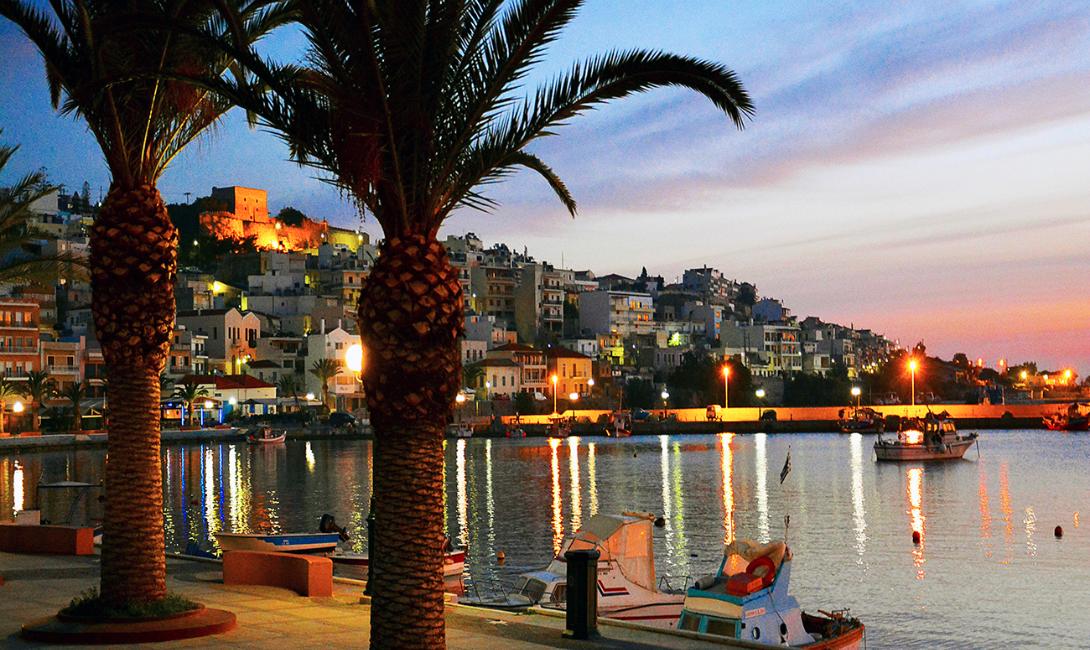 Sitia
Location
The word "friendly", applies to the people of Crete and it fits perfectly when considering the nature of the people you meet in the Sitia region.
We would elect the area "ideal for exploration".
One of the least "touristy" parts of Crete, Sitia as a town, was built up in Venetian times, destroyed and later rebuilt by the Turks, with just a few signs of this history remaining. The region however, still provides numerous clues and monuments to the area's early history.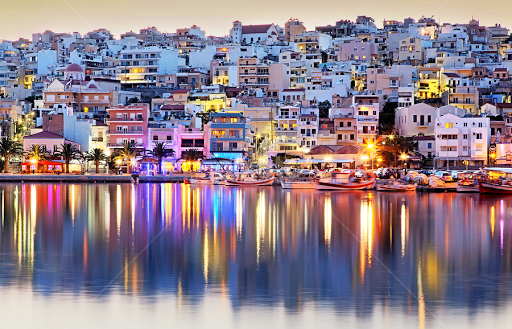 Today, its long sandy beach (equipped by this caring town with showers) offers the pleasures of sand, sea, swimming and all the windsurfing opportunities in the world.
Sitia is very much a living town, which happens to have tourism, rather than the other way around. Sitia has the most cheerful and friendly Cretans you could hope to meet, people who love their town and keep it clean and tidy, not so much to attract tourists but more because they themselves take pleasure in it and are proud of it.
The uncrowded region of Sitia is home to monasteries (notably Toplou), archaeological sites, palm-forested beaches, sparkling bays and fascinating treks across the mountains.
To name a few, the surrounding villages of Zou, Ziros, Handras - alive with the activities of today - abandoned Ethia and the surroundings of Karydi, hold much of interest in their ancient buildings and archaeological finds.
Getting to this more isolated region (named Lassithi from "La Sitia" ) takes you on a journey through magnificent countryside, generously supplied with dramatic gorges, intriguing villages hanging onto inland peninsulas or steep hillsides, along a "California-highway-one-like" road. Birthplace of Vitsentzos Kornaros, author of the "Erotokritos",
Sitia has an atmosphere that suggests if there were an artist's colony, this should be it.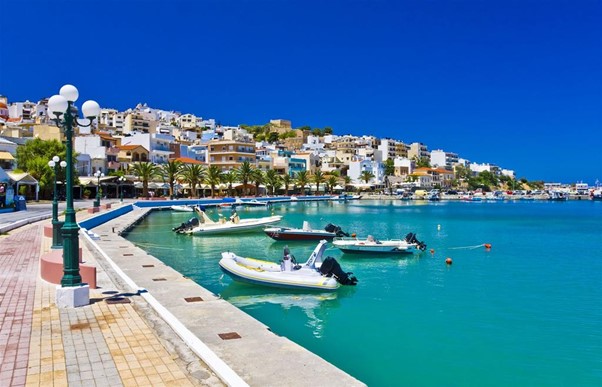 How to get there
From Agios Nikolaos (driving time 60-90 minutes) the National road clings to the coast most of the way (a dramatic set of winding turns and sweeping, emotion-stirring, views) . The drive is magnificent and there are many places to see en route.
A detour to Mochlos is recommended, take the left turn to Mochlos, at 5.5km past the village of Kavousi. You will find tavernas at the waters edge in the village (5km down the road) and the tiny island with its visible archaeological site opposite.
If driving from Heraklion (total drive time 2.5 to 3 hours to Sitia) consider stopping at Neapoli. It's hardly a detour off your route and about twenty minutes before you arrive at, or pass, Agios Nikolaos (this is also one of the ways to get to the popular Lassithi Plateau).
Cradled amongst lush green surrounding hills, it has a beautiful open and spacious central square with large church, many cafes and Kafeneia and a park. (Neapoli and Agios Nikolaos will have feature sections devoted to them soon.
If you want to explore the region while you're here, we recommend that you rent a car, other means of transport are limited and/or infrequent. You can pick your favourite car from our website and book it online or get a quote! We also provide pickup services from any airport and port.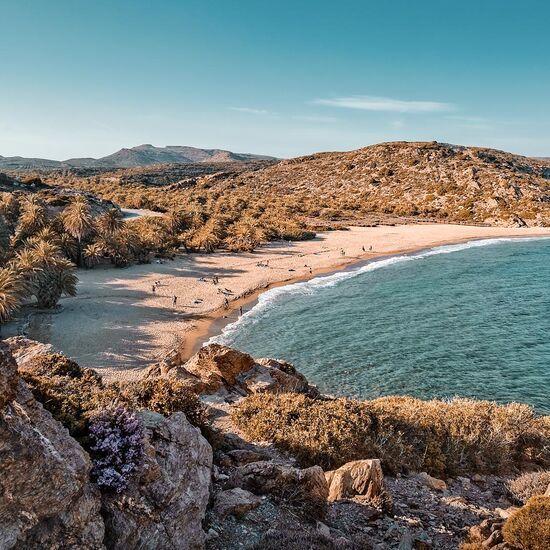 Where to stay
You can choose from a variety of hotels, apartments and traditional houses there.
Sightseeing
Sitia is an absorbing place to wander around, doing no more than enjoying atmosphere.
The small narrow streets behind the seafront feature the everyday scenes of a Cretan provincial small town: villagers in to stock up on news and necessities and stores which cater to their every conceivable need.
And don't forget, one thing not to be missed, especially on Sundays, is the volta, when the whole town puts on its finery to parade in front of the neighbours, cafes, tavernas. If you want to see this "show" get a seat around six in the evening at a table adjacent to the road behind the waterfront.
Aside from wandering the streets, sitting in Cafes or lying on the beach you could visit the Folk Museum near at Kapetanios Sifi near the OTE or have a look at the restored Venetian Fort which now used as an open-air theatre.
Climbing down from here you can see the ruined remains of some Roman fish tanks, just along the harbour. If you would like to gain a better picture of the past, then you have to visit the Archaeological Museum, on the Ierapetra road, which contains a very interesting collection of finds from the area around and the palace at Zakros.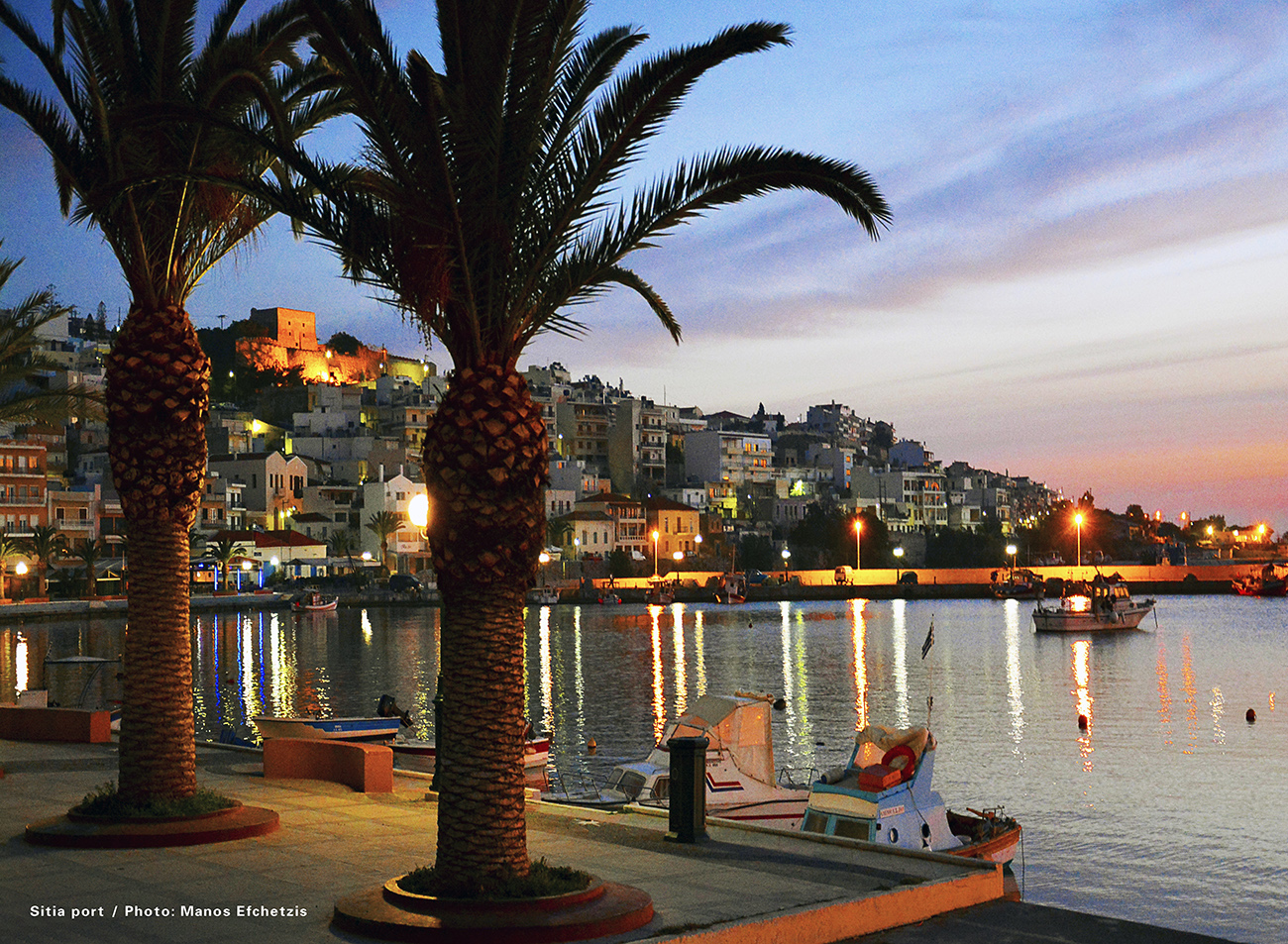 Entertainment
Sitia is famed for its good food and raki. The Sitians call the little tavernas serving mezedes rakadika.
You can enjoy your mezedes with raki of course( this is what the locals love to do ), but you can also choose to wash them down with the local wine, beer or even ouzo. Don't miss it…
Some of the traditional local dishes are omaties or omathies (pork chitterlings stuffed with rice, chopped liver, sultanas and spices), xygalo (type of creamy cheese) and, above all, the well-known Sitian sweet cakes.
Sitia is famous for its xerotigana (crispy pastry spirals with honey), which are slightly softer and lighter than those you may have tried elsewhere in Crete.
And of course the kalitsounakia (sweet cheese pastries) are small and square and leavened with yeast.
For well-grilled fresh fish you can trust the Remetzo, the Zorbas and the Kastro. The restaurant "Balcony" is located on the first floor of a traditional house in the center of Sitia with Mediterranean cuisine could be a good choice as well.
Don't miss during August ( 16- 20 August ) the annual Sultanina or sultana festival which marks the start of the grape harvest and of course the summer long cultural festival with concerts, dance, theatre - the Kornaria